Platinum Gel Ink Wood Pens
Pendesigns.com customers please post a comment and "like"my facebook business page!

Celebrating my 22nd anniversary of crafting the highest quality custom writing instruments
1996-2018
All of the pens on this page use the Pilot G2 gel refills. These pens have
Platinum
fittings
(specifically this Rhodium is the hardest member of the Platinum family of metals)
They are two-piece pens and the cap is "posting", meaning that
it screws on both ends
, to prevent loss of the cap. The "screw type" of posting is
definitely superior
to the "friction" press-on type of posting pens that you may see on some other websites. I found out early on that the friction caps eventually wear out,so I will not craft them just to save a few dollars. A pen of this quality typically sells for $120 or more elsewhere!
My price is only $60
unless indicated otherwise.
These are
all upgradeable to
fountain pens
!
This is the link to the fountain pen upgrade kit.
Below is an example of one of my capping rollerball pens in the uncapped position so you can see the writing nib.


Platinum Gel/Rollerball in Figured Mesquite ITEM#90 $60

Platinum Gel/Rollerball in Cardinalwood (Brazil) ITEM#83 $60
Platinum Gel/Rollerball in Desert Ironwood (Arizona)ITEM#88
(sold out)
Platinum Gel/Rollerball in Tulip Poplar (Tennessee State Tree) ITEM#78 $60
Platinum Gel/Rollerball in Mopani (Africa,South Africa) ITEM#81 $60

Platinum Gel/Rollerball in Birdseye Maple (Canada) ITEM #82 $60
This pen would be an excellent choice for laser engraving!


Platinum Gel/Rollerball in Cocobolo (Central America) ITEM #84 $60
Platinum Gel/Rollerball in Texas Ebony (South Texas) ITEM #79 ($65)
Platinum Gel/Rollerball in Osage Orange ITEM #250 $60
This pen would be an excellent choice for laser engraving!
Platinum Gel/Rollerball in Tambootie (Tanzania) ITEM #87
Platinum Gel/Rollerball in Bethlehem Holy Land Olive Wood ITEM #86 ($65)
Bethlehem Olive Wood
is the most beautiful wood I have ever worked with.
Each pen is more striking and figured than the one before.
Includes a
certificate of authentication
that the wood came from
prunings from trees in Bethlehem (no trees were damaged)
- The price of the Bethlehem Olive wood pens is $65.
For Bethlehem Olive Wood, due to the tremendous grain activity - if you want engraving,
I recommend engraving the maple gift box instead of the pen itself.
---
The following pens are dyed, double-dyed, spalted, and/or stabilized woods, and also include the free maple gift box.
Sale! All of the stabilized, spalted woods and burls are now only $65


Platinum Gel/Rollerball in Stabilized Afzelia Lay (Laos) ITEM# 600 $65

Platinum Gel/Rollerball in Amboyna Burl (Laos) ITEM #601 $65

---
New for Nov. 2016 Poly-Acrylic Pens
All pens use the Pilot G2 GEL refills,
are $70.00 each
and include the free wood gift case shown below. The photos don't do these new pens justice.
This Poly-Acrylic material is difficult to turn and finish but the final result is worh the time and trouble. As always the fittings are platinum plated.
Platinum Gel/Rollerball in Partytime Poly-Acrylic ITEM# 609 $70


Platinum Gel/Rollerball in TwilightSummer Poly-Acrylic ITEM# 610 $70


Platinum Gel/Rollerball in Eye of the Tiger Poly-Acrylic ITEM# 611 $70


Platinum Gel/Rollerball in Paua Poly Pearl Poly-Acrylic ITEM# 612 $70
---
---
---
Free
solid maple case
shown below (you will see similar cases as a
$10.00-$18.00 option
on other websites) is included with all my
CUSTOM WOOD PENS
for a classy gift presentation. No cheap plastic boxes here! Included in each case is a wood identification card and refill instructions for the custom pen you have ordered.
---
For the ultimate presentation - consider upgrading to the glass top display box shown above. The light color of
the bamboo wood compliments any of my custom pens and proudly displays and protects the pen on your desk.
Front lip of box is laser engravable! (see ITEM #100 below for engraving charge and info)
Shown above with my Bethlehem Olive Wood Platinum Capping Rollerball.
The cost for the box (pen not included) is only $20.00 Box not for sale without pen purchase.
Glass top Presentation Box ITEM# 900
(sold out)
---
---
Need Laser Engraving?
First, be sure to allow one week for engraving - that's the time it takes the engraving service after I craft the pen.
It's only $10.00 additional per pen.
Engraving shows up best on light colored woods like the birdseye maple example shown below, or cardinalwood, deer antler, teak or pernambuco.
It will not show up as well on dark woods like cocobolo, Texas ebony, mopani, tambootie, or multi-colored Dymondwood, tru-stone or celluloid, and
is not recommended
! For best results on pens, please limit your text to one line of 14 characters maximum, including spaces. For boxes you may engrave up to two lines of text.
Laser engraved items are not returnable.
Item #100 (below) to add engraving to your order (indicate engraving either pen or box)


LASER ENGRAVING ITEM #100
If you choose a dark wood, Bethlehem Olive Wood, or patterned dymondwood for your pen, you may wish to have the
maple gift box engraved, instead of the pen
(not both) Just specify "engrave the box" in the special instructions.
Here is an example of an engraved maple gift box: Again, be sure to add item #100 Laser Engraving (shown above)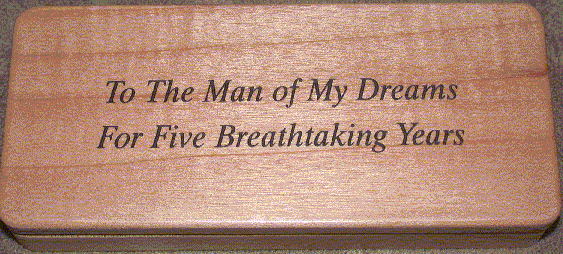 Copyright © Dismore Woodworks 2003
All rights reserved. No text or photographs may be reproduced without the express permission of the webmaster.