Segmented Pens
Pendesigns.com customers please post a comment and "like"my facebook business page!

Celebrating my 25th anniversary of crafting the highest quality custom writing instruments
1996-2021
New for September 2017, I have been crafting some very interesting segmented pens over the last few weeks and have settled on a custom design that is a variation on the classic "Celtic Knot" pattern.
I have created this unique overlapping pattern by adjusting my table saw to a very specific angle. Each cut through the cocobolo pen blank must be done one at a time then the insert material (this white/black/white pick guard material is used in custom guitar construction) is glued in and allowed to dry for an hour. Then the next cut is made an a second side of the blank and the insert glue up is repeated. So it takes four hours just to glue up the segmented blank before I can start to turn the pen on the lathe. Each pen may have a very slight variation from the pen shown here that is already sold, due to my custom turning process. Everything I do is by eye to maximize the final look of each pen I create. The cost is $55 for these due to the amount of prep time and extra materials cost.


`
Platinum Cocobolo Pen with pick guard segmented "Celtic Knot" $55 ITEM #23
sold out!
Below is the final glueup of this pen with all four segments glued in. Now it is time to cut the blank to size on the bandsaw, drill it out in the drill press (glue in tubes then wait another hour) and finally mount it on the wood lathe. Now for the turning fun as the segmented pattern begins to take shape!

---
Platinum Bethlehem Olive Wood with segmented Bloodwood Cross and metal accents $65 ITEM#25
---
Below is a photo of how this pen is presented and packaged with the free maple gift box. If you want engraving on the box, please go to the home page and select ITEM #100 and add it to your cart. You will specify your engraving at checkout in special instructions.
---
Free
solid maple case
shown below (you will see similar cases as a
$10.00-$18.00 option
on other websites) is included with all my
CUSTOM WOOD PENS
for a classy gift presentation. No cheap plastic boxes here! Included in each case is a wood identification card and refill instructions for the custom pen you have ordered
.
---
Here is an example of an engraved maple gift box: Again, be sure to add item #100 Laser Engraving (shown above)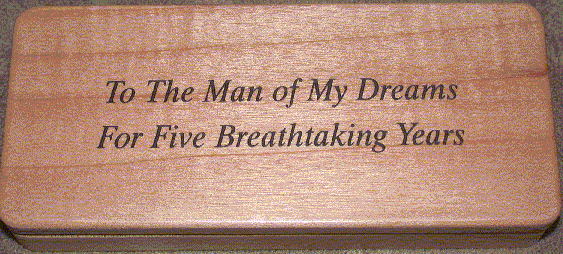 More laser engraved examples here: