Platinum Magnum Dymondwood ITEM #10

Platinum Dakota Dymondwood ITEM #11
Platinum Field & Stream Dymondwood ITEM #12


Platinum Bubblegum Dymondwood ITEM# 305

Platinum Rainbow Dymondwood ITEM# 306




Platinum Peacock Dymondwood ITEM# 307




Platinum Oasis Dymondwood ITEM# 308



Platinum Hot Fuchsia "Ladies favorite" Dymondwood ITEM #15


Platinum Navy Blue Dymondwood ITEM #14

Platinum Mopani (Africa, South Africa) ITEM #28

Platinum Birdseye Maple (N. America) ITEM #17



Platinum Texas Ebony (South Texas)

($55.00)

ITEM #20

Platinum Rhodesian Teak ITEM #18



Platinum Tambootie

(Tanzania

) ITEM #26
Platinum Cocobolo (Central America) ITEM #21
Since 1996, Cocobolo has been my

best selling

wood!

Platinum Lauro Preto (Tropical South America) ITEM #22


Platinum Cardinalwood (Brazil) ITEM #24
---
---
---
---
Free solid maple case shown below (you will see similar cases as a $10.00-$18.00 option on other websites) is included with all my CUSTOM WOOD PENS for a classy gift presentation. No cheap plastic boxes here! Included in each case is a wood identification card and refill instructions for the custom pen you have ordered.






Need Laser Engraving?



First, be sure to allow one week for engraving - that's the time it takes the engraving service after I craft the pen.

It's only $10.00 additional per pen (or box) and If you want

both a pen and box

engraved

please add the second engraving charge to the quantity

in your cart.

Engraving shows up best on light colored woods like the birdseye maple example shown below, or cardinalwood, deer antler, teak or pernambuco.

It will not show up as well on dark woods like cocobolo, Texas ebony, mopani, tambootie, or multi-colored Dymondwood, tru-stone or celluloid, and

is not recommended

!

For Bethlehem Olive Wood, due to the tremendous grain activity - I recommend engraving the maple gift box instead of the pen itself.

For best results on pens, please limit your text to one line of 14 characters maximum, including spaces. For boxes you may engrave up to two lines of text.

Laser engraved items are not returnable.




Item #100 (below) to add engraving to your order (indicate either

pen or box

)


LASER ENGRAVING $10.00 ITEM #100
New for 2006!
If you choose a dark wood, or patterned dymondwood for your pen, you may wish to have the
maple gift box engraved, instead of the pen
(not both) Just specify "engrave the box" in the special instructions. Up to two lines may be engraved.
Here is an example of an engraved maple gift box: Again, be sure to add item #100 Laser Engraving (shown above)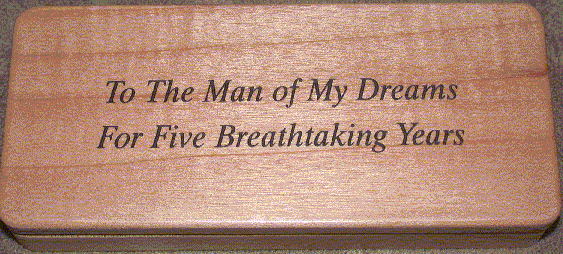 More laser engraved examples here: