Pen Designs CUSTOM WOOD PENS

Each hand-crafted CUSTOM WOOD PEN on this site created by
Dismore Woodworks, Grand Prairie,Texas
contact: 214-923-9316 [email protected]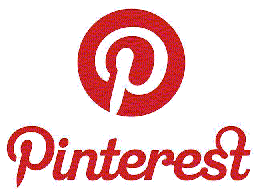 Celebrating my 27th anniversary of crafting the highest quality custom writing instruments
1996-2023
For a quick

4 minute video

about my handmade wooden pens click the

youtube link photo

below:



My CUSTOM WOOD PENS are handcrafted from: Cocobolo, Afzelia Lay, Pernambuco, Rosewood, Birdseye Maple, Figured Mesquite, Cardinalwood, Dymondwood, Mopani, Rhodesian Teak, Tambootie, Deer Antler, Ancient Kauri, Spalted Woods & Burls, Texas Ebony,

Texas Spalted Sycamore, Bethlehem Holy Land Olive Wood, Maple Burl, Amboyna Burl, Missionary Cyprus, Curly Mango, and more! Please scroll down to the green "

buttons" and "blue links

" to see all of my handmade wooden pens.




Laser Engraving? Please be sure to add item #100 ($10 charge) to your order before you checkout with Paypal. The link to Item #100 is found towards the bottom of this homepage. Your Paypal shopping cart should display a "note to seller' or "note from buyer" box to enter what you want engraved on the pen or box, but if it doesn't go ahead and complete your order and then send me an email:

[email protected]

with your engraving instructions. I will confirm it with you by email the same day. Thanks! Roger














New for September 2017

Segmented "Celtic Knot" Pens

Pen Refills and Upgrade Refills

Bolt Action Pen

5 year "wood" Anniversary Gift

Texas Ebony Pens Page

Ancient 30,000 year old Kauri wood from New Zealand Free Gift Card

Thomas Edison tree Rollerball Pens

Native Texas Wood Pens

Bethlehem Holy Land Olive Wood Pens
(a rare example of natural Bethlehem Olive Wood shown directly below)


---
Hello pen lovers! Since 1996, I have been hand crafting very high quality, collectable
CUSTOM WOOD PENS
and

DEER ANTLER PENS

and selling them at craft shows in Texas. Since 2003, through this website, I have also gained customers in 47 states! Come on North Dakota, South Dakota & Maine!!! I have been a woodworker for 40 years and have completed many pieces of fine furniture for personal use. I had seen some lathe-turned writing instruments

several years ago and was immediately attracted to the functionality and design possibilities. Here at Dismore Woodworks, I personally craft each and every wood ink pen, starting with the highest quality mechanisms and fittings available. This is the most important thing to consider for the longevity of the pen. You can find less expensive

wooden pens on the internet, but you always get what you pay for! If you are looking for cheap, mass produced, promotional pens for under $10 - then I can't help you.

I use only the finest grade hardware plating available!

I also include a two year guarantee that equals that of MONT BLANC® and other big name pen manufacturers.



I ship all orders by USPS Priority Mail at a flat rate charge of $10 for up to three pens in a USPS flat rate box or padded pouch.
Also, each pen includes a

free

solid maple gift box

- some other sites charge $10 or more for this! If you would like custom laser engraving please see the link towards the bottom of this page for ITEM#100 laser engraving. It's $10 for a pen (or) box. If you want the

pen and the box both engraved

you would add (2) of ITEM #100 to the shopping cart (total would be $20) you will specify your engraving instructions in the shopping cart "special instructions" box at checkout.

---
I do not use a duplicating machine like some "crafters" that use a duplicator to turn out 200 pens per day! To my mind, that's not really hand-crafted. Each of my writing instruments is turned one at a time, by eye, so no two pens are ever quite alike, making them great for collectors. The variations in color and markings from the variety of exotic woods I choose is fantastic! Bethlehem Olive Wood in particular, displays incredible grain patterns and is my best selling wood. Deer antler pens are perfect for the outdoorsman or serious pen collector. Need some great gifts?
My collector grade writing instruments can be used to satisfy all of the following needs:



Graduation Groomsmen Bridesmaids Birthdays Christmas Boss's Day
Fathers Day Mothers Day Retirement Anniversaries Corporate Gifts


Office Awards & Incentives Pen Collectors



I currently make the two types of writing instruments shown at the top of the page: a Twist Ballpoint type wood pen, and a Screw Cap Gel Ink/Rollerball wood pen (upgradeable to a fountain pen)
The Ballpoints use genuine Cross® refills or any generic refill that fits Cross® type pens.
The Rollerballs use the Pilot G2 gel ink refills. Refills for both types are available in your choice of point sizes and ink colors from office supply stores, drugstores & Wal-Mart stores everywhere!

The gel/rollerball wood pens are a great writing experience! It's effortless. They offer the same quality writing experience as the "big names" at a fraction of the price and are much more durable. The ballpoints are lightweight, ergonomic, and great for carrying in a pocket. Note the Dismore Woodworks custom designed "scoop" towards the tip of the ballpoint shown above. This provides the most comfortable grip for most users, reducing writing fatigue, and is found on all of my ballpoints.

Ballpoint Pens are only $45 in your choice of many woods.


I am now including a

free

solid maple gift case! (a $10-18 value)

Gel ink/Rollerball pens are only $65 in your choice of many woods.


I

am now including a

free

solid maple gift case! (a $10-18 value)



Free

solid maple case

shown below (you will see similar cases as a

$10.00-$18.00 option

on other websites) is included with all my CUSTOM WOOD PENS for a classy gift presentation. No cheap plastic boxes here! Included in each case is a wood identification card and refill instructions for the custom pen you have ordered.

Note: Effective Sept. 1, 2023 you will receive one of the two cases
shown below depending on the pen style you order.




---
Need Laser Engraving?



It's only $10.00 additional per pen (or box) For engraving on both a

pen and a box

be sure to select quantity (2) in the ITEM#100 in cart.

Engraving shows up best on light colored woods like the birdseye maple example shown below, or cardinalwood, deer antler, teak, Texas Black Cherry, or Texas Live Oak.

It will not show up quite as well on dark woods like cocobolo, Texas ebony, mopani, tambootie, or multi-colored Dymondwood.

For best results on pens, please limit your text to one line of 15 characters maximum, including spaces. For boxes you may engrave

up to two lines

of text. Laser engraved items are not returnable. You will specify what you want engraved in the final paypal checkout "Add note to seller" boxes. If you have any problems please email me at

[email protected]


LASER ENGRAVING $10.00 ITEM #100

If you choose a dark wood, or patterned dymondwood for your pen, you may wish to have the

maple gift box engraved, instead of the pen

(not both) Just specify "engrave the box" in the special instructions. Up to two lines may be engraved.
Here is an example of an engraved maple gift box: Again, be sure to add item #100 Laser Engraving (shown above)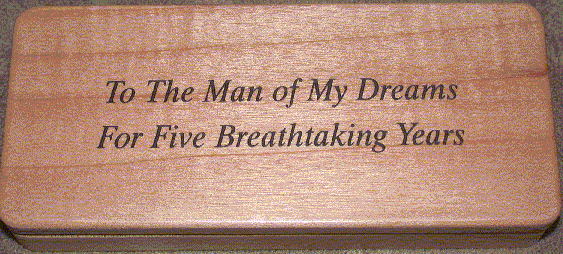 ---
---
Warranty: Dismore Woodworks writing instruments are guaranteed to be mechanically defect free for a period of two years from receipt of your pen. Should a mechanical or plating defect occur, you may return your pen within the two year period for free repair or a new replacement pen! Warranty does not cover abuse or physical damage incurred after delivery like "you sat on it and broke it, or your child played with it and broke off the clip." The spring clips will last for years if not abused. They are designed for use in shirt pockets only - not jeans pockets! Forcing a clip over thick material will eventually break it off! Variations in grain pattern and color from the pens pictured on this site are not considered a defect; every tree is different. You actually want to be able to tell your wood pen from someone else's; that's why you are buying a custom wood pen! The actual pens pictured here have been previously sold, but your pen will be very similar in size, shape & color.
All pen examples shown are in stock and ready to ship, or can be crafted usually within 48 hours.

I am a proud member of the International Association of Penturners. Great group of folks!
No International Shipping, Sorry, I am currently taking orders and shipping within the United States only.



Free xml sitemap generator
Thanks for your interest, and enjoy a great writing experience,
Roger Dismore, woodturner

[email protected]
Business Phone 214-923-9316

Copyright © Dismore Woodworks 2003
All rights reserved. No text or photographs may be reproduced without the express permission of the webmaster.
This entire website, including all text and photographs is registered with the Library of Congress and I hold a valid certificate of registration.
Willful infringement of this copyright will result in prosecution, with statutory damages of up to $150,000 plus attorneys fees.